Une expérience vachement fun baptisée « ISS HD Earth Viewing Experiment »* est en cours sur la Station Spatiale Internationale. Je sais bien qu'ils en font des centaines pas toutes folichonnes, mais celle-ci va vous permettre de voir en direct ce que les occupants de la station voient tous les jours et ce que d'autre payeraient des millions pour voir.
Il s'agit en fait de tester différentes caméras HD du marché face aux conditions de l'espaces. Elles sont pressurisées et chauffées mais pas immunisées aux rayonnements & co, ce qui permettra de mettre à l'épreuve le matériel pour les futures missions spatiales. Là où ça devient réellement intéressant, c'est que les flux vidéos sont envoyés en direct vers la Terre. Vous pouvez ainsi voir votre monde sous 4 angles différents !
J'admets qu'en réalité il n'est pas si évident de tomber sur un flux fonctionnel : il faut qu'il fasse jour et que le signale passe bien (sinon c'est l'écran gris). Mais l'idée de voir enfin un direct depuis l'ISS est juste géniale (et tellement attendue).
Le flux vidéo en direct, c'est sur UPSTREAM.
Et les informations sur la mission, c'est sur le site de la NASA.
Bonne visite sur le plus fabuleux site de papier-peint de bureau du monde. 😉
 * : Expérience de Vue de la Terre en haute définition depuis la Station Spatiale Internationale.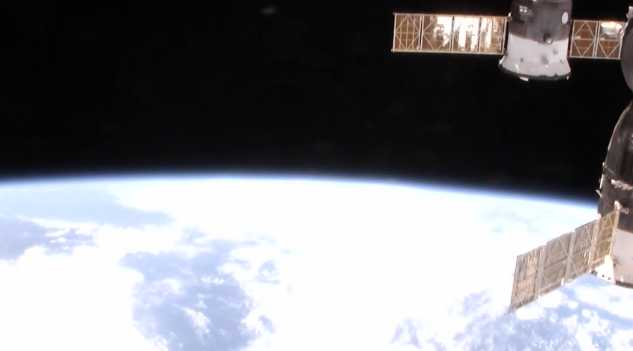 Science Objectives for Everyone

The High Definition Earth Viewing (HDEV) experiment places four commercially available HD cameras on the exterior of the space station and uses them to stream live video of Earth for viewing online. The cameras are enclosed in a temperature specific housing and are exposed to the harsh radiation of space. Analysis of the effect of space on the video quality, over the time HDEV is operational, may help engineers decide which cameras are the best types to use on future missions. High school students helped design some of the cameras' components, through the High Schools United with NASA to Create Hardware (HUNCH) program, and student teams operate the experiment.